Marmaris is the most popular and beautiful place of the southern Aegean coast with its unique beauties, location and features. With its location like an undiscovered pearl, Marmaris has attracted the attention of many people from Turkey and all around the world.
Marmaris is a place that appeals to all walks of life and instills life into people with its clean air, glass-clear beaches, countless coves to be discovered where blue and green are intertwined, historical places, very well-preserved mountains and green forests. Surrounded by mountains, Marmaris is not open to expansion and overcrowding, it always offers a quiet life.
While it was an old fishing town, today it makes you feel many features of modern life with its modern and developed hospitals, shopping centers, entertainment centers. However, its unchanging architectural structure, the images of people selling their own fresh products in the markets, and the local people who can welcome you even though you drop in unexpectedly and you have never met them before, Marmaris still makes you feel the same old atmosphere of a fishing town.
Since more than two or three floors of construction is not permitted in Marmaris, it does not have a crowded and disturbing appearance that has been occupied by tall buildings over time, as in the case of Spain and many other countries.
Marmaris has a semi-tropical climate, it rains in certain months of winter and the air temperature ranges between 15-25 degrees. In many days, after a rain which you can feel the smell of the soil, a sunny weather where you can go out and stroll in a short sleeve t-shirt dominates the rest of the day.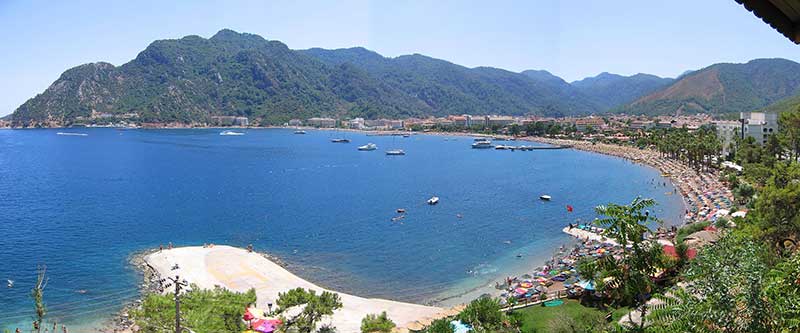 The times when the tourists are more crowded start in April. The temperatures between April-May and June are between 30 and 35 degrees, and the temperature rises up to 45 degrees in July and August. In September and October, temperatures are between 30-35 degrees, and in November and December, the temperature varies between 25-35 degrees and light rain manifests itself.
With its amphitheaters, old sports centers and arenas, royal tombs carved into old mountains, caves, unearthed villages which date back to BC and afterwards, which can be visited in these lands where different civilizations have ruled for thousands of years; it offers incredible experiences to people who are passionate about history.
It offers a wide spectrum to nature lovers with its many features such as walking paths in mountains and forests, cycling and jogging paths on the beaches and its amazing canyons.
Marmaris, which is home to the largest marinas in Turkey, has countless of unique, green bays with its turquoise sea, many of which are almost hidden. The old large sailboats (between 15-40 meters), which are unique to Marmaris and called Gulets and used to fish in the past, are modernized and used for daily and weekly trips. These boats, which have a large hull area, can offer seating and sunbathing areas for many people and can also be rented privately.
For those who do not prefer private rental and prefer a more economical cabin charter, as an alternative cruise, they can rent air-conditioned and modern cabins for 1-2 or 3 people, where they can meet different people from many different countries, make friends, and return home with unforgettable memories and experiences.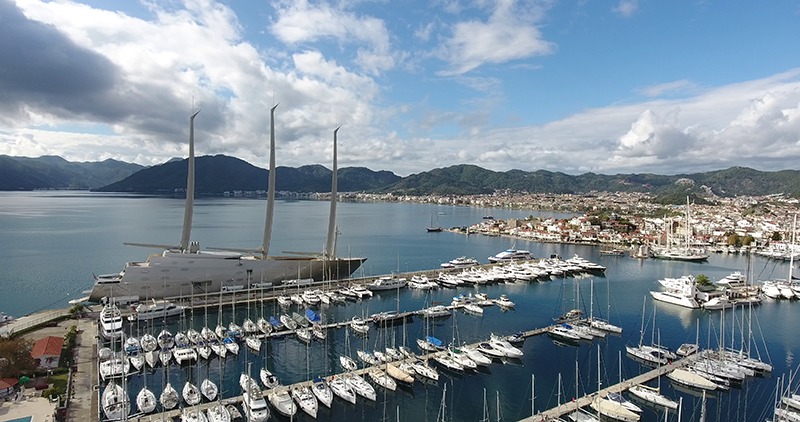 Restaurants where you can find many cuisines besides Turkish cuisine, offer their unique tastes to their visitors, and many restaurants offer fun activities before and after meals.
Marmaris has a rich nightlife and offers a sparkling life between 11 pm and 5 am at night with its famous bars street, live music, disco and clubs for young people and those who feel young. Most of these places are houses built when Marmaris was first established and have old and nostalgic architecture.
The people of Marmaris are very friendly and hospitable, and when you start the day, you will often see people who you don't know, yet smiling and greeting you. Many times, even if you knock on the door of any of the locals, they will host you and offer you traditional Turkish tea or coffee.
Since Marmaris is a center of attraction with its geographical structure that is not suitable for expansion and all these features, the demand for real estate is increasing day by day. Many people from around the world, including Europe, buy many real estates such as holiday homes, villas, village houses, as well as hotels , lands and offices for investment. All these real estates gain value varying between 20% and 40% depending on their characteristics and locations.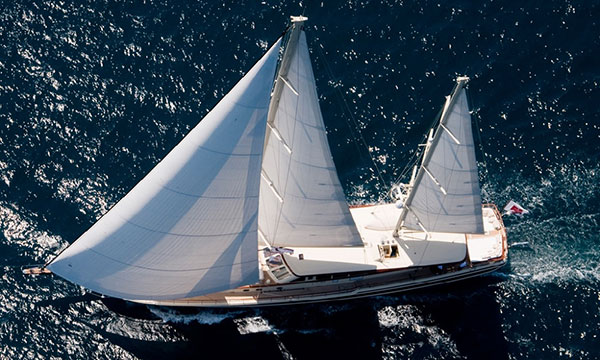 Marmaris is also known for excursions with traditional Turkish yachts called Gulets in its uniquely beautiful bays where the crystal blue sea and the green intertwine.
Please click to get information about gulets and to visit Gulet charter website.